Hanna Tzuker Seltzer
Associate Professor of Instruction (Hebrew), Jewish Studies and MENA Languages
PhD, University of California, Berkeley and the Graduate Theological Union
Curriculum Vitae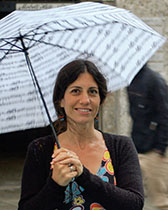 847-467-5684
Crowe Hall, 5-159
Hanna Tzuker Seltzer was born and raised in Jerusalem, where she also studied Film and Television. Her short narrative film was aired on the prominent Israeli network Arutz Shtayim ("Channel 2") and was awarded the channel's Snunit Prize for emerging Israeli filmmakers. Prior to her PhD studies at the University of California Berkeley, she graduated summa cum laude from the Hebrew University in Jerusalem, earning her BA in Hebrew Literature with Designated Emphasis in Creative Writing.
Hanna also holds a certificate in teaching Hebrew as a Second  Language from the Rothberg International School at the Hebrew University, where she taught in the Summer Ulpan. She has also taught at the Milah Ulpan in Jerusalem. During her doctoral studies at UC Berkeley (Ph.D., 2017, Jewish Studies), she taught courses in modern Hebrew language and Jewish Studies , earning UC Berkeley's Outstanding Graduate Instructor Award. In addition to her focus on Hebrew Literature, Hanna also studied Yiddish and examined the complicated relationship between Hebrew and Yiddish in the texts of Yossel Birstein and other Yiddish writers. Her dissertation, "Retrospectivity as an Ethical Stance: Revisiting the Zionist
Dream in Israeli Fiction and Film," examines Israeli novels and films whose plots flashback to the period between the pre-state Yishuv in Palestine and the first years of Israeli statehood. Hanna explores how this retrospective gaze suggests a nuanced ethical critique that both depicts the experience of daily life in those heady ideological days and offers a historical reassessment of the values of that era.