Yohanan Petrovsky-Shtern
Crown Family Professor of Jewish Studies and Professor in the Department of History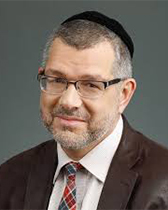 847-467-3399
Harris Hall, 317
Yohanan Petrovsky-Shtern is the Crown Family Professor of Jewish Studies and a Professor of Jewish History. He teaches a variety of undergraduate- and graduate-level courses in the History Department and the Crown Family Center for Jewish and Israel Studies that include early modern and modern Jewish History, East European Jewish History, Jewish Mysticism and Kabbalah; Origins of Zionism; History and Culture of Ukraine; and Slavic-Jewish Literature. 
He holds a Ph.D. in Modern Jewish History from Brandeis University (2001) and a Ph.D. in Comparative Literature from Moscow University (1988). He has received several grants and awards, including Rothschild (Yad Hanadiv) Fellowship, Fulbright, Ephraim Urbach Doctoral Award of the Memorial Foundation of Jewish Culture, the National Endowment for the Humanities Grant, DAAD Fellowship, Kosziuszko Foundation Award, and a Northwestern University Distinguished Teaching Award. 
He has been a Sensibar Visiting Professor at Spertus College in Chicago; a Visiting Scholar at École des Hautes Études Sociales in Paris; and a Visiting Professor at the University Kyiv Mohyla Academy in Kyiv, Ukraine; a Visiting Scholar at the Institute for Advanced Studies at Hebrew University in Jerusalem. He has been appointed a Fulbright Specialist on Eastern Europe; a Fellow at the Harvard Ukrainian Research Institute, the Lady Davis Visiting Professor at Hebrew University in Jerusalem, and a Visiting Professor at the Free Ukrainian University in Munich, an honorary doctor of the University Kyiv Mohyla Academy in Kyiv, a Recurrent visiting professor at the Ukrainian Catholic University in Lviv and the Kosciuszko Foundation Visiting Professor at the University of Warsaw. 
He has published several books, including Jews in the Russian Army, 1827-1917: Drafted into Modernity (2008), The Anti-Imperial Choice: the Making of the Ukrainian Jew (2009, winner of the American Association of Ukrainian Studies book award), Lenin's Jewish Question (2010), and The Golden Age Shtetl (2014, paperback 2015 winner of the National Jewish Book Award).
"With Paul Robert Magocsi he co-authored a monograph Jews and Ukrainians: a millennium of coexistence University of Toronto Press, 2016, 2nd edition, 2018), which appeared in English and Ukrainian. Presently he is working on a book-size project National Democracy Behind Bars: Ukrainian and Jewish Dissidents in the Gulag and Beyond (1960-1990)."  His books, book chapters, and articles appeared also in Greek, Spanish, Polish, Russian, Hebrew, and Ukrainian.  
Jewish Studies Courses
Freshman Seminar: The Image of the Jew in Modern Literature
History 101-6: Jewish Life in Poland, Ukraine and Russia
History 101-6: Jewish Image in Modern Literature
History 203-2: Jewish History II, 1492-1789
History 203-3: Jewish History III, 1789-1948
History 348-1: Jews in East Europe I, 1250-1917 
History 348: Jews in East Europe II, 1917-1991
History 348-1: Jews in Poland, Ukraine and Russia
History 391: Modern Jewish History
History 391: East European Jewish Experience (10th century-1917)
History 391: Soviet Union Jewish Experience, 1917-1991
History 392: Kabbalah & Jewish Mysticism
History 392: Making of Shetl
History 392: Between History & Memory: Jewish Autobiography
History 395: Senior Seminar: Origins of Zionism 
History 395: Senior Seminar: The Shtetl: Cultural History of the Jewish Market Town
History 395: Senior Seminar: Hasidism
History 492: Early Modern European Jews
History 499: East European Jewish Historiography